How to Apply Luster Dust, Wet or Dry
Are you new to edible glitters, powders & dusts and want to learn how to apply them to add shimmer and shine to your cookies, cupcakes, cakes and buttercream! Well, you have come to the right place.
This is a fun little article to learn how to add luster dust to add a metallic shine and shimmer to cookies and other confectionery delights! And did you know you can apply luster dust, tinker dust, petal dust, dazzler dust or highlighter dust wet OR dry?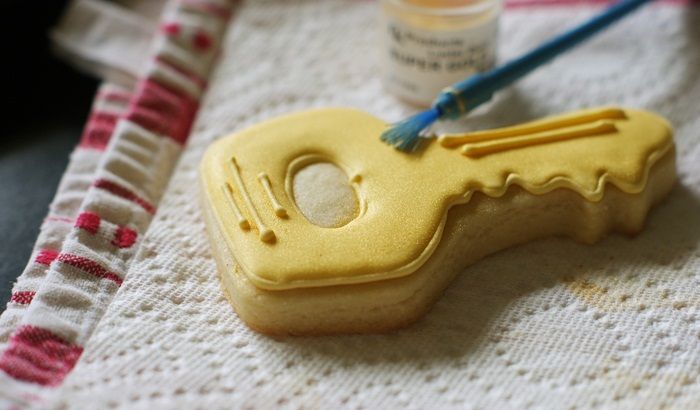 It's a little hard to see the effect of a dry luster dust application in photos sometimes. Think of it this way....dry luster dust is like a shimmery body powder. Wet luster dust application is like a gold lame skirt.

The wet application is perfect for when you want an opaque finish that really transforms your cookie into silver or gold. These First Communion Chalice Cookies are a great example...and the tutorial for applying is there for you as well.


Instead of using the wet application for the keys, the decorator kept the cookies in the same color palette by adding the luster dust dry.

Adding the luster dust dry lets you see the original cookie color, but adds a sheer, metallic shimmer.

It really couldn't be easier. Let your cookies dry overnight, then use a clean and dry paintbrush to brush on the luster.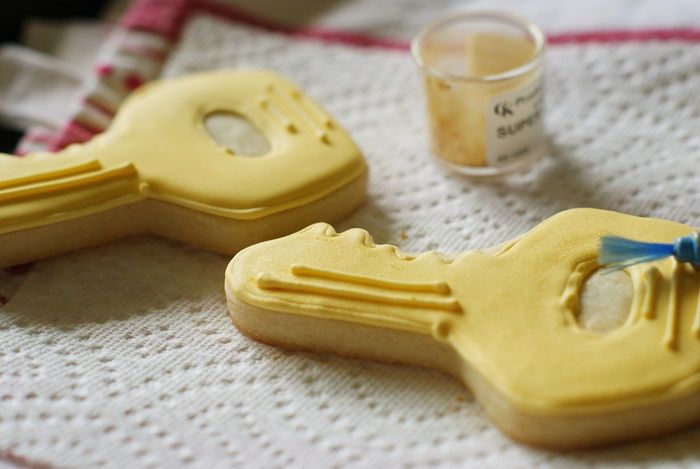 Can you see the difference? It's a little hard to pick up in a photo. The cookie in front has luster; the one in the back doesn't.




The same luster dust color used here can be found right here at Bakell.com! Bakell carries as large assortment of dusts for different applications. Learn more about the differences between our edible Decorating Dusts & Other Dusts or Powders by clicking here?